×
Error
Your website session has timed out.
Please login to the site again using the Member Login button at the top right of this screen.
Meet Chelsea Mora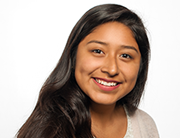 Class of 2015-2016 - Saunders HS
"My time in the Her Honor program has impacted me in such a positive way. I felt very intimidated at the beginning of this program by all these women who play such a huge role in their area of work. I was completely amazed since you rarely hear of women who play that big of a role in their business. I was very shy and felt awkward.
Throughout the months of working with my mentor, I have seen a major improvement in the way that I talk and also the way that I hold myself up. Not only have I developed an amazing connection with my mentor, but also with the co-workers at ContraFect Laboratories."